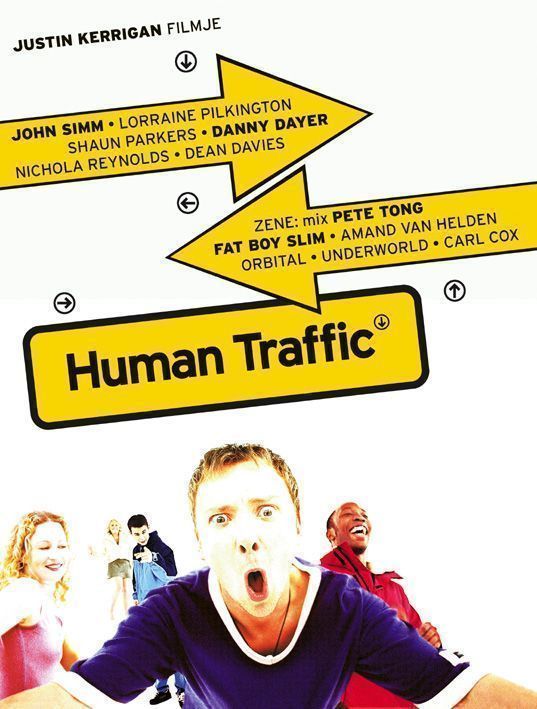 WIKIPEDIA
Human Traffic
est un
film
britannique de
Justin Kerrigan
, sorti en salle en
1999
.
Sommaire
Synopsis
Cardiff, les annèes 90, l'univers du clubbing, l'espace d'un weekend cinq amis affrontent leur démons personnels au travers des relations qui les unissent. Jip se considère sexuellement paranoïaque et redoute d'être impuissant. Lulu, la meilleure amie de Jip, n'a pas de chance dans ses rencontres amoureuses. Nina déteste son travail dans un fast-food et son mec Koop, qui rêve d'être un disc jockey hip-hop renommé, souffre de jalousie maladive. Le cinquième est Moff, dont la famille n'apprécie guère le comportement. Jip est le narrateur de l'histoire sous la forme d'une voix-off. L'histoire commence un vendredi après-midi avec les préparations pour le clubbing du weekend...
Fiche Technique
Titre original : Human Traffic
Sociétés de production : Irish Screen, Fruit Salad Films
Sociétés de distribution : Renaissance Films (1999-2004), Metrodome Distribution, Miramax Films (2000) (USA),
Caméraman : Dave Bennett
Direction artistique : Sue Ayton
Musique : Matthew Herbert & Roberto Mello; Pete Tong
Public : UK:18; USA:R ; Allamagne:18 ; -12 (France)
Format :

35 mm

; Aspect ratio 1:85 ; Couleur ; Son :Dolby Digital
Sortie : 4 juin 1999 UK, 14 juin 2000 France
Pays : Angleterre & Irlande
Distribution
Personnages Principaux
Personnages Secondaires
Figuration
Récompenses et Nominations
Récompenses
Nominations
Bande Originale
"Human Traffic, Ost, 1999, Label FFRR Records"
. The Weekend Has Landed
. It Ain't Gonna Be Me - CJ Bolland
. Build It Up, Tear It Down - Fatboy Slim
. Moff's Lyrical Miracle Madness (Human Traffic Theme)
. Cookies - Jacknife Lee
. Scared - Lucid
. Spliff Politics
. Bucket Wipe - Position Normal
. Hip Hop Intro
. My Last Request - Grim
. Hip Hop Outro
. You're Gonna Get Yours - Public Enemy
. Dirt - Death In Vegas
. Jungle Intro
. Never Believe - Dillinja
. The Mood Club - First Born
. What Was I Talking About?
. Ogive - William Orbit
. All Day - Interfearence
. King Titos Gloves - Deadly Avenger
. Comedown Sermon
. Belfast - Orbital
. Human Traffic Theme - Matthew Herbert & Robert Mello
. Star Wars Theory
. Flowerz - Armand Van Helden feat. Roland Clark
. Under The Water - Brother Brown feat. Frank'ee
. Atlanta - Pete Heller
. Push It - Quake
. 5:55 - Durango
. My Fellow Boppers - Thee Maddkatt Courtship
. The Age of Love - The Age of Love
. Cafe Del Mar 98 - Energy 52
. Diving Faces - Liquid Child
. Out of the Blue - System F
. The Latin Theme - Carl Cox
. Kittens - Underworld
. Dark Air - Quake
. The Tingler - CJ Bolland
. We're All In This Together (plus score music)
. Come Together - Primal Scream
Commentaire
Human Traffic est un ovni cinématographique, écrit et réalisé par Justin Kerrigan qui est né à Cardiff au pays de Galles, là où se déroule le film. Human Traffic est le seul film qu'il ait réalisé. À noter qu'il joue dans le film le rôle de Ziggy Marlon. Human Traffic est un film qui donne un aperçu réel sur les effets des drogues tout en contournant leur coté négatif. Un regard au ton très juste sur une réalité, un monde dans lequel évolue la jeunesse depuis des décennie mais toujours prohibé de la civilisation. Par ce film Justin Kerrigan a dévoilé un sujet tabou et trop incompris par l'homme.
«

Les drogues vous invitent dans un état euphorique, donnent une vision d'un monde pacifique. Elles rassemblent des personnes de tous genres de différents milieux. Vous n'obtiendrez jamais ce sentiment de paix dans aucun autre genre de culture. Bien que l'utilisation de drogues soit artificielle, ce qui est évident est que tout le monde veut se sentir comme cela naturellement, se sentir confortable avec chacun, pouvoir aborder toute personne sans aucune crainte animée par un sentiment de paix.

»
— Justin Kerrigan
Anecdotes
Le générique d'ouverture se fait sur le titre Build It Up - Tear It Down de Fat Boy Slim.
Koop vend un vinyle du groupe de hip-hop hardcore de la côte Est baptisé les Itchy Trigger Finger Niggers (en réalité Grim - My Last Request) à un junkie-rappeur qui lui refusa du son West Coast
Koop propose à d'autres clients du jungle (Stalker de Aphrodite) ; il s'amuse alors avec le sens du mot en évoquant Tarzan et Jane, le disque étant alors plus transcendant que Hare Krishna.
Jip de par son boulot de vendeur se voit comme obligé de jouer les C-3PO et est malmené par un mini-Hitler comme patron.
Nina a un boulot robotisé sous forme de breakdance et fait figure d'une farouche critique au système des fast-food.
Moff ne se la jouant pas à la Scarface ne deale pas de drogues dures.
Jip en se rendant chez sa mère écoute et chante dans sa voiture un titre de Public Enemy.
Koop annonce qu'ils seront plus "space" (donc "espace") que Neil Armstrong.
Jip regarde quotidiennement des sketches de Bill Hicks qu'il prend pour philosophiques.
Moff évoque à un chauffeur le film Taxi Driver et décrit les supplices qu'il veut infliger à Peter André.
La musique qu'ils détestent : les Spice Girls, les Boyzone, Kylie Minogue, Aqua, Peter André, les Backstreet Boys, 911, Hanson.
Pour le docteur, l'ecstasy entraine une baisse de la sérotonine.
Jip invente de nouvelles paroles à l'hymne nationale britannique God Save the Queen que tout le bar reprend avec lui.
Pablo Hassan n'est autre que Carl Cox, alors dj et producteur.
Jip fait croire à Pablo qu'il est rédacteur pour le célèbre Mixmag.
Lulu et Nina font croire qu'elles prirent de l'héroïne après avoir vu Trainspotting et du crack après New Jack City.
Elles respectent leurs ainés cherchant à ne pas refaire les mêmes erreurs qu'eux, tels Jimi Hendrix, Elvis ou Sting.
Ziggy Marlon est joué par la réalisateur du film et se prend pour Ziggy Marley (avec en fond Gettin Blunted de Mulder).
Nina crie que la riche maison dans laquelle ils atterrissent lui évoque Dynastie.
Pour Jip qui philosophe sur la folie, Socrates, considéré comme un taré, est en réalité un génie ; il devrait de fait avoir sa place au Parlement.
Le film finit sur une citation de Bill Hicks : « Le monde est cinglé, mais je suis fier d'en faire partie »
Moff se masturbe dans sa chambre en écoutant justement Black Shaolin de Carl Cox.
Moff et un mec délire sur Star Wars comme l'incarnation de la culture de la dope :
Lien externe
DOWNLOAD
Lien N°1